Giving
Giving at Island Church
We encourage all of those who are part of our Church family to give not out of obligation but out of worship. Your gifts allow God's work to be done in the community.
Securely Give Online
Your information is held securely by an SSL encrypted connections. This information will remain private and will never be given away to third parties, other than to process your scheduled contributions.
Ways to Give
There are many easy ways for you to give. Including one time gifts, text-to-give and by setting up online reoccurring giving.
Securely Give
Contribution Statement
Text Giving
Text Number
Giving Guide
Giving FAQ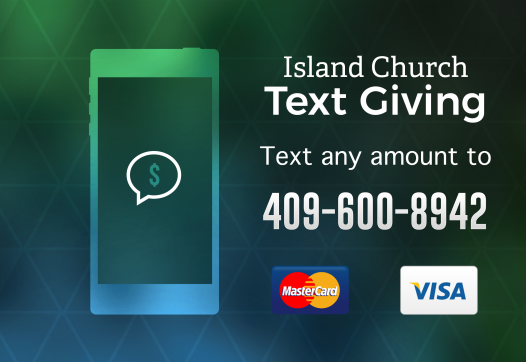 Giving Guide
How To
1. Text the amount you would like to give to 409-600-8942.

2. If you are a first time, text-giving donor you will be prompted to visit a secure URL.

3. Once you click the registration link, you will enter your credit or debit card information.
4. At this point your donation will process.

5. You will see a confirmation text showing your donation and registration were successful.

FAQ's
How do I update my card information saved within text giving?
If you have an updated card number or a new expiration date for your current card, you can easily remove your saved card information from and add new card information to the Text Giving service.
To do this, you will need to text the word EDIT to the Text Giving number (409-600-8942). Then you will receive a message confirming that the saved card information has been removed.
To input and save your new card information, you will need to go through the Text Giving registration as you did with your first text donation.